Book Review: The Storied Life of A.J. Fikry
July 6, 2014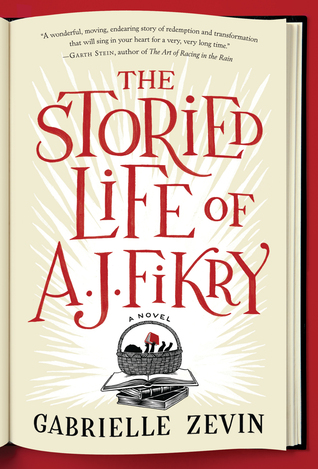 The Storied Life of A.J. Fikry
Gabrielle Zevin
Algonquin Books
(borrowed from library)
I saw this at Book Expo 2013, but didn't get a galley. The title made me curious about it, as did the bookloving nature of the plot and characters. It's both a character-driven small town novel, and also driven by the love of books. Set in a bookstore at the center of the small town, and each chapter begins with a reference to a short story. Many of which I haven't read, and now think I really ought to.
I am sure that if you've read the short stories referenced, they amplify the themes of the chapters they introduce. So it works on that level.
I also appreciate that the characters' quirks felt reasonably well balanced: not so quirky that they feel like the author is trying too hard. I especially liked Officer Lambiase, for being a good friend to A.J. and for being a cop running a book group about crime fiction. I also appreciate the way the younger Maya was written. It's really hard to write a child character well, especially a smart child in a bookstore in literary fiction. She could have gotten gratingly precocious, but Maya's characterization worked.
Some of the story reminded me of A Simple Twist of Fate, a Steve Martin movie I love dearly, which is based on the story of Silas Marner. I think that might have played into the difficulty I had picturing what A.J. looked like, or even pinning down how old he and Amelia were. Not that the characters' ages matter in any particular way to how this story is told.
I have thoughts and feelings about the ending, but I will say no more out of respect for spoilers. Except to say it is literary fiction, and that leads to certain endings being more likely. Is that oblique enough?