Book Review Roundup: Historical Fiction
February 4, 2015
Letters from Skye
Jessica Brockmole
Ballantine, July 2013
(review copy from Book Expo)
This epistolary novel is a fast, sweet read. I picked it up because it includes poetry, the Isle of Skye, and World War II, some of my favorite reading themes.
Elspeth is a poet, writing around the time of the First World War, living an isolated life on the Isle of Skye (possibly because she is afraid to leave it.) By chance, Davey, an American college student finds her book, and is moved to write a fan letter. They begin a sweet correspondence and friendship. There is also a story of Elspeth's daughter, facing the dawn of World War II, writing letters of her own, frustrated by her mother's reluctance to talk about her past.
I got pretty attached to Davey and Elspeth fairly soon in their letters. The World War II characters were harder to grasp. The writing from all of the letters was lovely to read, full of images of Skye, London during the Blitz, bits of poetry. I enjoyed the prose and the voices/ I wish it had been longer- there was a lot to get done, establishing two generations of romance in wartime, family divisions, secrets uncovered, journeys. At times, I felt more rushed than I wanted to, and I wish the story had taken a few more letters at each point to develop.
If this isn't optioned for a screenplay or BBC miniseries, I'll eat a box of stationery. And a pen for dessert.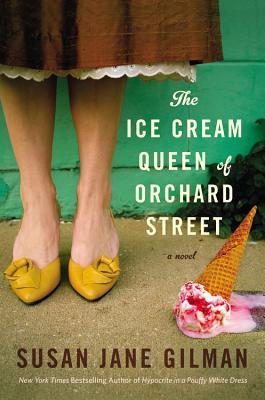 The Ice Cream Queen of Orchard Street
Susan Jane Gilman
Grand Central Publishing, June 2014
(review copy from Book Expo)
This is a story of immigration and reinvention, as much, if not more a story of the ways New York and its people have changed, as it is one woman's story of growing up here. Told entirely in the first person, with a very strong, present voice- it's easy to picture Lillian telling her story, wanting to set the record straight, from poverty in Russia and tenement New York to the court case and scandal Lillian alludes to as she looks back. Being able to see, entirely through Lillian's eyes, the way New York's culture and neighborhoods changed over the years was wonderful. And, as she moves from the Jewish community to the Italian community, her story provided a close look at family life and social history, which is exactly the kind of thing I find fascinating. It makes me want to reread Sydney Taylor's All-of-a-Kind Family series. I loved them so much as a kid.

The setbacks, tragedies and desperate moments Lillian experienced felt real enough, and Lillian's narrative voice is strong enough so that it felt like reading a nonfiction memoir. One with the very definition of an unreliable narrator. As Lillian looks back, we're very much getting her perspective, her spin. She's not perfect: she openly tells stories of deceptions, small acts of thievery, betrayals, and a vendetta over an old wound that was a driving force through much of her later adult life. As she looks back and tells the story, she's about to stand trial.

At times, the events she told felt uncomfortably real. There were scenes that were hard for me read because of the desperate poverty she described. And as someone who cringes over deceptions, or people being excessively mean and petty to one another, I had a few moments where I was so uncomfortable with  plot points that I wondered whether I was really enjoying the book. That's not the book's fault. It's on me for having a really low tolerance for cringe-inducing scenes.
I don't want to use the word "bittersweet" about a novel that focuses on using an ice cream business as the dominant metaphor for an encompassing view of one woman's life against several decades of history. But… it suits.